Winning the MBA Admissions Game when Re-applying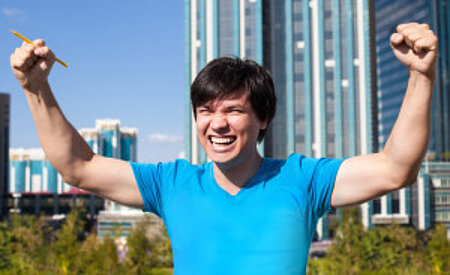 Not being admitted to your dream MBA program is hardly the end of the world. In many cases, taking an extra year before going to business school can pay dividends, giving you time to build up work experience and re-take the GMAT for a higher score. In many cases, applicants who were rejected from their dream MBA program end up using the time to make drastic improvements to their resume and GMAT score, sometimes gaining not just admission, but scholarship awards the second time around.
Five out of six applicants to the top MBA programs are not admitted. Here at Manhattan Admissions, one of our specialties is admissions consulting for applicants who did not get into their target MBA program. MBA applicants tend to have a history of impressive achievements, so not being admitted to their program of choice may be one of their first rejections.
There are many strategies for re-applying to MBA programs. Some applicants work harder in preparing for the GMAT, while others add valuable work experience. Other applicants begin their search for the right MBA program anew, uncovering programs with specialties that better suit their career goals.
Here are five ways to a winning second application:
Ask yourself the right questions.

Was going to business school the best move at this point in my career? Did I apply to the right programs that fit my background and career goals? What are my alternatives to business school? Asking yourself the tough questions will give you valuable insight into what you should do next.

Start fresh.

Many applicants suffer from denial after their first rejection, and they re-apply with the exact same application during the next admissions cycle. At the very least, you should take a fresh look at your essays, and incorporate any new experiences or lessons you have learned in the extra time. Many re-applicants decide to target a lower-ranked MBA program where they have a better chance of graduating at the top of their class rather than an MBA program where they may struggle to stay above median.

Search for feedback.

Don't treat rejection as the end of your relationship with your target school. If possible, reach out to the admissions committee and ask for feedback. This will give you valuable information straight from the source, and it will also demonstrate your commitment to that school. Admissions officers will be impressed with an applicant who strives to improve their application, and they may even give you inside tips on what they look for in applicants.

Re-examine recommenders.

Admissions officers have told us that they are stunned every year by the number of lukewarm recommendations that come with many applications. Any wavering in a recommendation is a big red flag to admissions committees, and a recommendation from someone who you do not have a close relationship with may be little more than a generic form letter. Don't just ask for recommendations – provide your recommenders with concrete examples that showcase your value so they can incorporate those examples into their recommendations.

Stress new achievements.

Many MBA programs offer additional essay opportunities for re-applicants so they can describe more recent changes to their application. Use this opportunity to stress new achievements and any additional training or certification you may have attained. Admissions committees know that no applicant is perfect – what impresses them are applicants who show a strong desire to improve.
At Manhattan Admissions, we strongly believe that hidden in every setback is an opportunity. There is no perfect timetable for attending an MBA program, and you can add real value to your application if you continue to set new goals and achieve them. We hope you can take advantage of some of our experience and get a better result the second time around. Good luck!