Top 5 Tips to Writing A Winning MBA Essay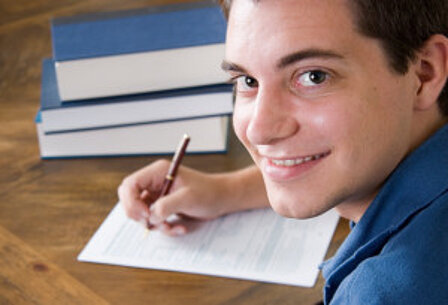 Outside of your in-person or phone interview, your MBA admissions essay is your best chance to "speak" to the admissions committee and show the intangible qualities that admissions committees look for in their candidates. This is your chance to show them who you are as a person, what your goals are, what makes you different from the typical applicant, and what you will bring to their next MBA class.
The first step to writing a winning MBA essay is research and preparation. Take some time to reflect on why you are pursuing an MBA and why you are a particularly good fit for the school that you are applying to. Also, don't forget to research each program enough that you can cite specific qualities that make you and the business school a good fit for each other.
At Manhattan Admissions, our research and experience has revealed that the average MBA admissions essay does little to bolster the applicant's chances, and actually works as a detriment to most application packages. One of the biggest problems is that the essays usually fail to capture the highlights of an applicant's work history, and they also do not project a clear vision of their goals. Remember that the admissions committee is trying to assemble a class of students who can benefit from each other, and the essay is one of your best opportunities to show what you can bring to your future classmates.
It is not enough to say that you want to be an investment banker or an entrepreneur. What you need is a cohesive narrative of what you've done so far, how that's shaped your goals, and what you intend to do to achieve your specific goals. With that said, here are five helpful tips to writing a winning essay:
Choose the right content.

Your admissions essay is your written sales piece, and the purpose of the essay is to convince the admissions committee that you will be a valuable future member of their MBA class. You should choose to write about something that is compelling enough for the reader to want you in their next MBA class. Choose a topic or an experience that shows how valuable you are and how you have leadership qualities with the potential for growth. The biggest complaint we hear from admissions committees when it comes to application essays is the lack of specifics. You need to be able to compellingly illustrate specific examples of what makes you stand out from other applicants. Think about specific assignments that you performed well, times when you took on a leadership role, or any high-profile assignments that you handled with grace.

Candid but professional tone.

Striking the write tone in your admissions essay can be tricky, but the right tone can also make a good essay great. The old adage that it is not what you say, but how you say it, is especially true here. You need to be confident in pointing out your achievements without being boastful, conversational without being unprofessional, and persuasive in a genuine way without coming off like a used car salesman. Your admissions is still a professional communication but with a human element. Have someone you know read over your essay to make sure that you are striking the right balance between professionalism candor.

Answer the question!

Many applicants fall into the trap of writing one generic essay and then making minor edits as each school's essay topic dictates. One strategy to avoid this is to have a friend read your essay, and then guess what the essay topic was. Admissions committees often tell us that they see long-winded essays that meander along without really showing who the applicant is. You will quickly lose credibility if your essay is off topic, so make sure that you respond to the question being asked.

Avoid flattery at all costs.

Flattery in an admissions essay is a cheap trick, and one that is very transparent to admissions committees. You don't need to tell a business school how great it is – business schools have plenty of ego, and they're used to selling themselves to potential applicants. What flattery does is indicate that you haven't done enough research on the program to offer substantive material.

You're not writing until you're re-writing.

This is maybe the most overlooked tip that we can offer. You may be a strong writer who finishes your essay in a few hours, but you need to spend the time to make your essay truly shine. There is simply too much at stake to turn in a first or second draft here. Finish your essay, let it sit for a few days, then take a second look at it. Focus on writing in a clear, crisp style that moves logically from one point to the next. The easier your essay is to read, and the more coherent it is as a whole, the better the impression that you will leave on your readers. Admission committees have to read hundreds of essays – they will appreciate a well-written, thoughtful essay that is enjoyable to read.
One final note on the optional essay – from our experience, optional essays are generally frowned upon unless there is a compelling reason to write one. If there is something truly important that the rest of your application failed to capture, then by all means write the additional essay. Just understand that admissions committees have a lot to read, and that the last thing they want is a recycled essay that adds nothing.
Be yourself, as sincerity will win you more points than anything else. Show the maturity it takes to avoid making excuses for shortcomings – instead, show how certain setbacks made you stronger and how you're the type of person that learns and grows from challenging experiences.